Cartago Springs 410 North Mojave St. [SOLD]
SOLD 10/5/15.  WOULD YOU LIKE ME TO BUILD ONE FOR YOU?

This residence consists of a customized modular house, with a 24 foot square custom garage, 27 foot square patio with concrete walls, floor and pool, with sidewalks all around, trellises, and a private patio off the master bedroom. Outside are ponds, streams, a wetlands, and evolving flora and rock landscaping. It is built on a 1/2 acre parcel, with its own well whose static level is just 7 feet down and can be continuously pumped at 100 gallons per minute!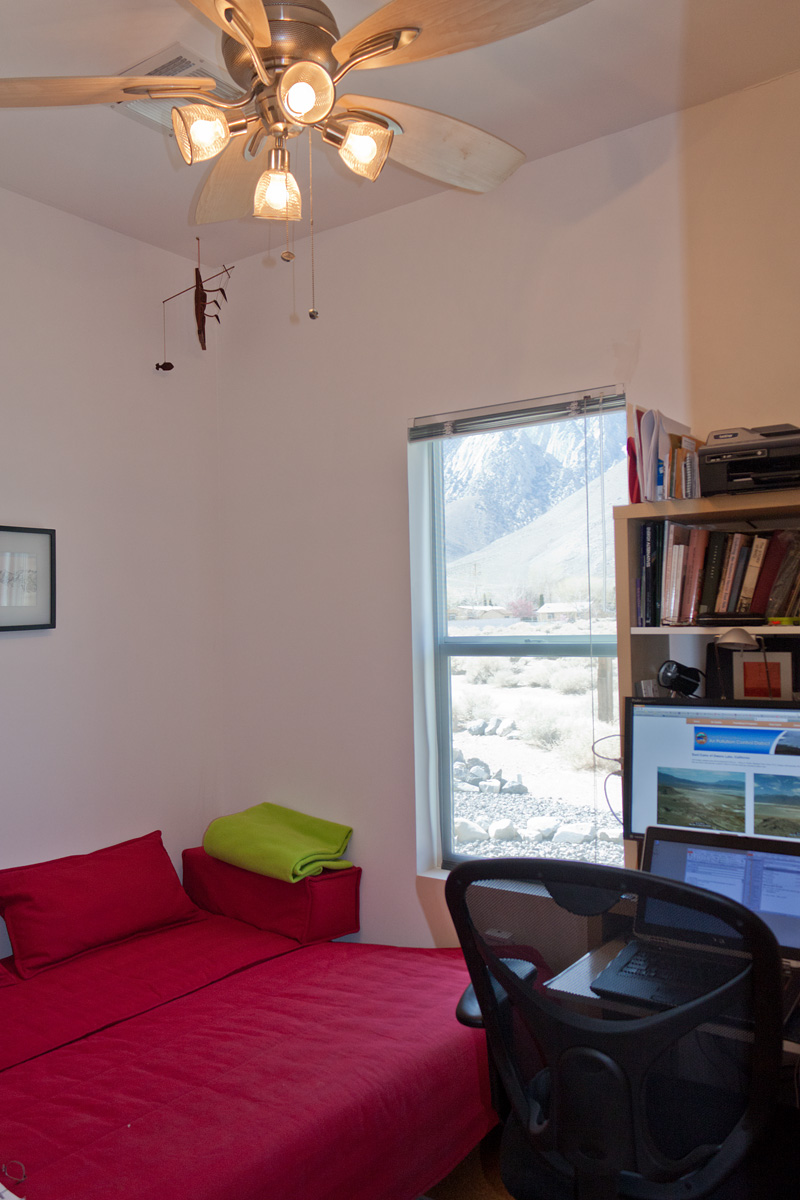 Second Bedroom/Office
This home and property sold for <$200,000.
The house comes fully furnished and outfitted, so you can just move in and start enjoying it.
New 410 N. Mojave Water Quality Report!
What is included:
1/2 acre parcel with well, septic system and underground power
additional 1/2 acre parcel (3 lots) directly adjacent to the south, with power at the property corner
2 bedroom home with custom kitchen and bathroom, 9 foot ceilings, 2 x 6 construction with heavy insulation, double paned windows and doors with low-e glass
Evaporative Cooling system with with garage cooler extension and indoor booster air conditioner
Solar-boosted water and space heating, with individual heating units per room
Custom 24×24 foot garage with powered 16 foot door, doors to patio and house
Washer, dryer,sink, and toilet in garage with access to thermal space location of water heater and booster systems
27×27 foot patio with poured concrete slab, walls and pool, integrated lighting, plus propane grill
Privacy fencing, partially covered trellis, water feature, planters and custom table in patio
3 foot poured concrete sidewalk all around with poured concrete steps at all entrances
Automated irrigation system (solar and A/C powered), landscaping, ponds, streams and wetlands
Home Automation for lighting, heating, and cooling, and outdoor cameras with Internet access.
8 x 12 foot pump insulated pump house with skylight, powered fan, lighting, windows, glass door, sink, counters- suitable for use as guest cabin
Sophisticated Grundfos 22 gallon per minute computer-controlled well pump (922sqe10-190) with user settings for continuous water pressure (efficient and reliable)
18 – 15 watt photovoltaic panels on well house with control units, storage batteries, and timers for automated irrigation and water feature functions driven b2- 12 volt pumps
Master bedroom includes bed frame and mattress, side tables, dresser,  custom closet, blinds on door and window, ceiling fan and light with remote control
Second bedroom/office includes convertible sofa/bed, desk with storage unit,mesh office chair, closet with locking file cabinet, ceiling fan with light and remote control
Living room includes sofa with integrated chaise, matching bent wood chair, wooden coffee table, end table with storage, and ceiling fan with light and remote control
Dining room includes wooden expandable table with storage, four padded rocking chairs, blinds and shade screens on windows, ceiling fan with light and remote control. Also wooden bar counter area with 3 wooden bar chairs
Kitchen includes wooden cabinetry and counter tops, stainless sink with disposal, drawer-style dishwasher, convection/microwave/grilling oven, refrigerator with ice maker, toaster oven, 240v kettle and cooking unit, automated rice, etc. cooker, air popcorn maker, blender, and food processor
House has extensive recessed ceiling lighting with dimmers.
Plus much more, all legal and to current code
GPS Tagged Location: 36.32358, -118.02273                   Email Queries                                    Download Flier
One Response